JUVEDERMTM
How parentheses appear...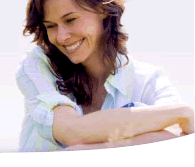 As you age, your skin changes. For example, it reduces production of a naturally hydrating substance called hyaluronic acid (HA). Over time, the loss of HA in your skin results in facial wrinkes and folds, like those "parentheses" lines around your mouth.
....and disappear
Juvederm injectable gel replaces the HA your skin has lost, bringing back its volume and smoothing away facial wrinkles and folds. A breakthrough in HA dermal fillers, JUVEDERM is the first smooth-consistency HA gel and the only HA filler that's FDA approved to last up to a year!
Where we use Juvederm...
In the smile lines, marrionette lines, cheeks (Juvederm Voluma), lips (adds volume to the lips and it provides long-lasting results...) and other lines and folds in the face.
Everyone will notice, but no one will know
You can experience the benefits of Juvederm injectable gel in a quick, in-office procedure. Your healthcare professional eases Juvederm under your skin to instantly smooth out the wrinkles and folds on your face. You'll see the difference immediately!
What makes Juvederm different?
While other HA fillers on the market have a more granular consistency, Juvederm injectable gel is the first smooth-consistency HA gel. This is due to an innovative manufacturing process called Hylacross technology. Hylacross gives Juvederm its unique smooth-gel properties as welll as an optimal gel structure that holds up over time. That's why juvederm injectable gel is the only HA filler that's FDA approval to last up to 1 year.
High Patient preference
When Juvederm was tested in a clinical setting among people who didn't know which filler they were getting, nearly 90% stated a preference for Juvederm! In addition, Juvederm injectable gel has been tested on all skin phototypes, both male and female, so everyone can enjoy the benefits of Juvederm.